The Chamber represents more than 2,000+ businesses of all sizes representing 210,000 employees from a wide variety of industries that are contributing more than $32 billion in revenue to Hawaii's economy. 
Click Here to view the Chamber's Event Schedule for 2022
Join the Chamber of Commerce Hawaii and representatives from the Honolulu Board of Water Supply (BWS) about proposed adjustments to its Water System Facilities Charge for residential, non-residential, and agricultural development.
What is the water system facilities charge?
Who pays this one-time fee?
Why update the WSFC now?
Charges being considered tentatively effective July 1, 2022
Q&A with BWS

Ernest Y.W. Lau, Manager and Chief Engineer, Honolulu Board of Water Supply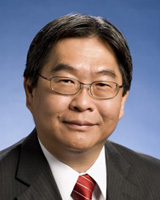 On February 1, 2012, The Board of Water Supply's (BWS) board of directors appointed Ernest Y.W. Lau as the tenth manager and chief engineer of the Board of Water Supply. As manager, Lau is responsible for the overall strategic direction and management of the BWS, with a focus on furthering the department's mission to provide a safe, dependable, and affordable water supply, now and into the future.
Lau previously served as the administrator of the Public Works Division under the State Department of Accounting and General Services, where he oversaw the planning, coordinating, directing, and controlling of a statewide program of engineering, architectural, and construction services. Lau previously worked as Deputy Director of the State Commission on Water Resource Management, Department of Land and Natural Resources where he worked collaboratively with the Commission members to set policies and make decisions in accordance with the State Water Code. Lau also served as the Manager and Chief Engineer of the Kauai Department of Water from 1996 to 2003 and as Deputy Manager from 1995 to 1996. Prior to that position, he worked for the Board of Water Supply, City and County of Honolulu for more than 14 years as an engineer in Long Range Planning and Water Systems Planning.

Dave Ebersold, Vice President, CDM Smith


Dave Ebersold, a Vice President with CDM Smith, provides facilitation and strategic support for water issues, leveraging his 30 plus years of experience in water resources, natural resources management, and geology. Specializing in large, technically complex, multi-disciplinary projects, his current engagements emphasize strategy development, public outreach and stakeholder group facilitation for water, recycled water and integrated resources planning. He routinely works with clients on a broad range of technical, political, infrastructure, and rates issues. For the past 6 years, he has served as the Principle in Charge for the Honolulu Board of Water Supply's Water Master Plan, in addition to facilitating their Stakeholder Advisory Group. Dave received both his bachelor's degree and MBA from UCLA. He is a registered Professional Geologist and Certified Engineering Geologist in California, in addition to being a Certified Project Management Professional. Dave also volunteers extensively with the YMCA.
Date and Time
Wednesday Oct 20, 2021
12:00 PM - 12:45 PM HST