The Chamber represents more than 2,000+ businesses of all sizes representing 210,000 employees from a wide variety of industries that are contributing more than $32 billion in revenue to Hawaii's economy. 
Click Here to view the Chamber's Event Schedule for 2022
ONLINE REGISTRATION IS CLOSED. For Late Registration, email tfetui@cochawaii.org.

Chamber Week - a week-long series of events and programming that coincides with the opening of the Hawaii State Legislature to connect members and the business community with legislators and engage them in the legislative process. Click here to view a short video about Chamber Week.
Kick off Chamber Week 2022 presented by Hawaiian Airlines, The Queen's Health Systems, United Airlines by registering to attend the virtual presentation Rallying in 2022 presented by HTDC & Innovate Hawaii. Hear from a panel of leaders to discuss evolving the way we operate to suit our rapidly changing world, the shifting talent pool and changing employee experience, innovation and operating more agile organizations, and how we can rally around these issues to support widespread recovery.

Stay until the end of the webinar for a fireside chat with Lt. Governor Josh Green and Sherry Menor-McNamara's moderated by Jason Chang regarding health of Hawaii and Boost 4Business.

Hear from the panelists on the following topics:
Senator Glenn Wakai: New Aloha Stadium Entertainment District initiative
Manny Edmondson: Innovation and AI
Kelly M. Johnson, PhD, RN, NEA-BC: Workforce shortage and shifting talent pool

Health of Hawaii and Boost4Business
Brought to you in partnership with the Hawaii Island Chamber of Commerce,
Kona-Kohala Chamber of Commerce and Maui Chamber
of Commerce.
Can't join us live? No problem! Register to attend and we will send you the recording of the webinar afterwards.
Jason Chang
Executive Vice President & Chief Operating Officer, The Queen's Health Systems
President, The Queen's Medical Center

Prior to joining QHS, Mr. Chang was the Chief Executive Officer of the McAllen Heart Hospital and South Texas Health System and Universal Health Services which is an $800 million regional health system comprised of five hospitals with 840 licensed beds; a trauma program, a transplant program; a children's hospital; a behavioral health hospital; a network of 120 employed physicians in seventeen locations.

An accomplished healthcare executive, Mr. Chang has over fifteen years of executive leadership experience in both for-profit and non-profit healthcare sectors. His background includes hospital and health system management; ambulatory service and clinical program development; quality and service improvement; managing tertiary/quaternary services in a teaching hospital environment; clinical integration and physician network development.

Mr. Chang received his Bachelor of Science (Pre-Medicine) from Northern Arizona University and his Masters of Business Administration from the University of Massachusetts Amherst. He currently serves on the Board of Directors for Blood Bank of Hawaii, St. Francis Healthcare System, Vizient West Coast Network Board, and American Hospital Association Regional Policy Board 9. He is also chair of the Oahu Workforce Development Board. Mr. Chang is a past National Vice President of the Japanese American Citizens League. He was recently named in Hawaii Business magazine's "20 for the Next 20", highlighting leaders who are projected to have a major impact on Hawaii over the next twenty years.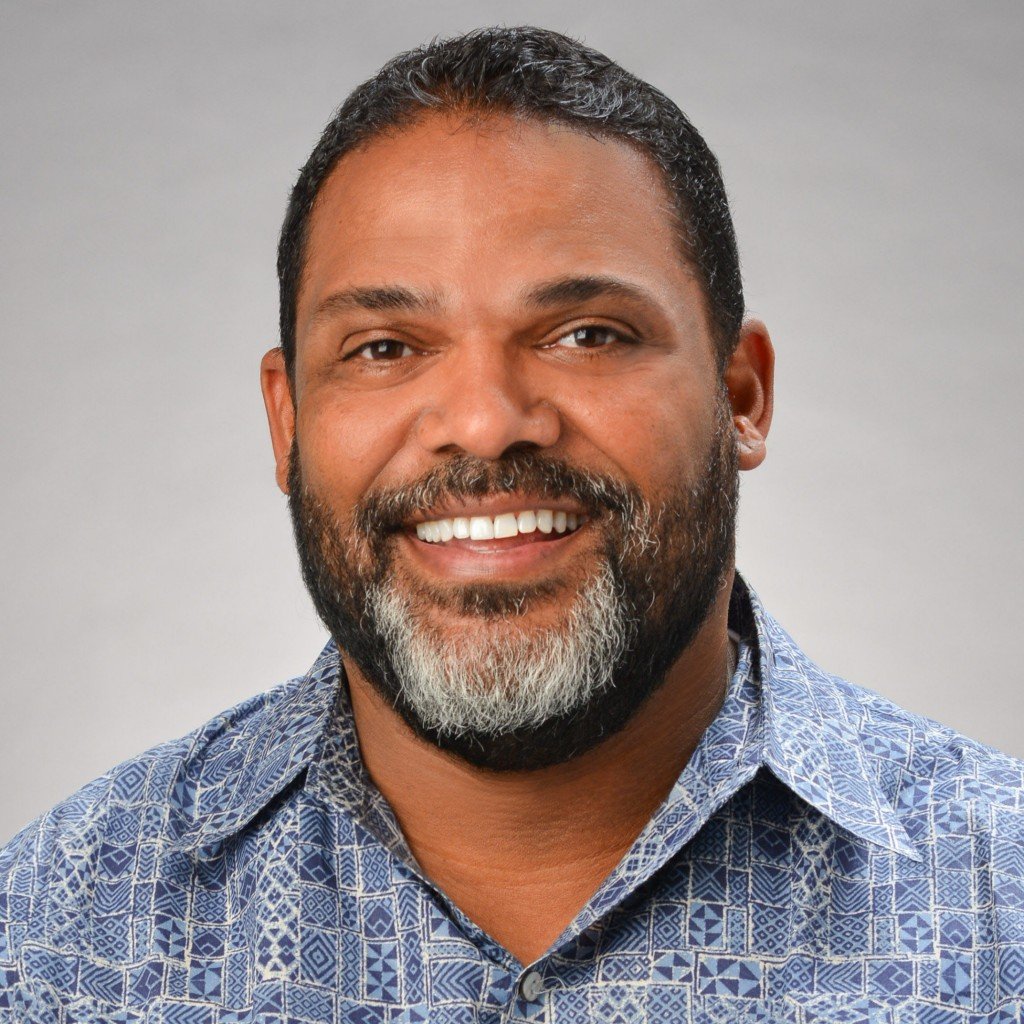 Manny Edmondson
EVP & Chief Technology Officer
Central Pacific Bank

Manny Edmondson is EVP, Chief Technology Officer for Central Pacific Bank. With over 20 years of experience in information technology and cybersecurity, Manny is a Certified Information Systems Security Professional. He oversees both technology and the information security function as Chief Information Security Officer for CPB.

Since joining the organization in 2016, Manny established a new information security program, which received regulator accolades; launched new mobile and online banking platforms; and assumed responsibility for CPB's IT strategy. Notably, app ratings for CPB's mobile and online banking platforms shifted from 2.2 to 4.8 out of 5 stars.

Manny has an MBA from Southern Methodist University and has worked for companies including ElectroSpace Industries, Raytheon and Federal Home Loan Bank. In addition, he served in the US Army as an electronic warfare intelligence analyst and instructor for nearly seven years. With his extensive experience in various fields, Manny brings many valuable skills to the CPB team.



Lt. Governor Josh Green

Josh Green is a local physician, husband, and father of two who has dedicated his life to caring for Hawaii families.

Dr. Green was born in Kingston, New York, and grew up in Pittsburgh, Pennsylvania. He received his bachelor's degree from Swarthmore College and completed his medical training at Pennsylvania State University and the University of Pittsburgh. Upon finishing his residency, Dr. Green joined the National Health Service Corps and was stationed in Hawaii in 2000. He began his life's work as a family and emergency room physician in rural hospitals and clinics on Hawaii island (Big Island).

In 2004, Dr. Green was elected to the Hawaii State House of Representatives and served until 2008. Following his time as a state representative, Dr. Green served in the Hawaii State Senate from 2008 to 2018.

Dr. Green was named 'Hawaii Physician of the Year' in 2009 and 'Hawaii Legislator of the Year' in 2013.

Currently Dr. Green serves as Hawaii's 14th lieutenant governor and was elected in 2018.



Kelly Johnson, PhD, RN, NEA-BC
Senior Vice President, Chief Nursing Executive, The Queen's Health Systems
Chief Nursing Officer, The Queen's Medical Center

Kelly M. Johnson, PhD, RN, NEA-BC, is the Senior Vice President and System Chief Nursing Officer.

Dr. Johnson has been a hospital executive and chief nursing officer for 28 years. She has clinical experience in many roles including a family nurse practitioner and clinical nurse specialist. Her clinical focus was in the neurosciences, specifically working with individuals and families with traumatic spinal cord injury. The work environment and the impact of the work on the front line are specific areas of expertise.

Dr. Johnson holds a Bachelor of Science in Nursing (BSN) from the University of Northern Colorado, Master of Science in Nursing (MSN) from the University of California San Francisco with specialization in Neuroscience (CNS) and Family Health (FNP), and a PhD from the University of Colorado Anschutz Medical Campus, College of Nursing in Health Outcomes.

Sherry Menor-McNamara
President & CEO
Chamber of Commerce Hawaii

As President & CEO of the Chamber, Sherry is the youngest and first female and Japanese-Filipino leader in the organization's 169 year history.

She previously worked for the Hawaii State Legislature, ESPN's Sheraton Hawaii Bowl, Sony Corporation, Sony Pictures Entertainment, Estee Lauder Company, Elton John Production, U.S. Senator Daniel Akaka and the Executive Office of the United States President.

Sherry serves on numerous boards including The Queen's Health Systems, JAIMS Foundation, FILCom Center, East-West Center Foundation, Center for Tomorrow's Leaders and Move Oahu Forward, as well as on a number of task forces.

She is a graduate of the Omidyar Fellows Leadership Program and in 2015, was selected to represent the United States in the Korea Foundation's Program for Distinguished Individuals in Economic Sector, In 2014, she was selected to participate in Japan's Ministry of Foreign Affairs Program and was recognized as "Top 10 to Watch" by Biz Journal's Pacific Business News. In 2012, she was recognized as a "Top 20 to Watch" by HawaiiBusiness magazine.

She earned a certificate in Expanding Impact in Advocacy from the Harvard Kennedy School of Executive Education. She holds a BA from UCAL and JD/MBA from the University of Hawaii.

Senator Glenn Wakai

Glenn Wakai entered the world of public service in 2002 when he was elected to the State House of Representatives. He moved to the Senate in 2010 and is currently the Chairman of the Energy, Economic Development, and Tourism Committee. He is the Vice Chairman of the Judiciary and Public Safety Committees.
Prior to politics, Glenn spent 11 years in television news. His reporting career began in Guam and he later moved to Saipan to build a TV station from scratch. He returned to Hawaii in 1995 to become a reporter for KHON FOX2 and KHNL News 8.

Glenn graduated from the University of Southern California with degrees in Journalism and Sociology, and also has a minor in Business Administration.
Outside of the Capitol, Glenn runs his own Public Relations firm, High Impact Communications and is also President of Reach out Pacific (REPAC), a non-profit which takes surplus medical and educational supplies to Micronesia.

​Glenn is on the board of Aloha Medical Mission and the Japanese Cultural Center.



Date and Time
Tuesday Jan 18, 2022
8:30 AM - 10:00 AM HST
8:30 AM - Welcome and Opening Remarks
8:35 AM - Panel presentations:
Senator Glenn Wakai - Aloha Stadium
Manny Edmondson - Innovation + AI
Ben Ancheta, Jr. - Staff shortages and changing workforce
Kelly Johnson, PhD - Healthcare staffing shortages
9:30 AM - Fireside Chat with Lt. Governor Josh Green and Sherry Menor-McNamara moderated by Jason Chang
10:00 AM - Closing Remarks
Click here to view the agenda for the week.
Online registration for this event will close on Monday, January 17 at 5PM
Location
Zoom
https://business.cochawaii.org/events/details/2022-chamber-week-virtual-rallying-in-2022-presented-by-htdc-and-innovate-hawaii-1113996
Fees/Admission
Complimentary- Members
$35 Non-Members

*Chamber members include YP & HFMA members.

Refund policy:
5 or more business days prior to event - full refund
2-4 business days before event - 50% refund
0-1 business day before event - no refund